THE LEMOINE FAMILY OF AVOYELLES PARISH LOUISIANA
by
Judy LaBorde
August 7, 1998
The following history of the Lemoine Family of Avoyelles Parish is compiled from several sources and is in many ways incomplete:
1. Research of Don LaBorde of Monroe, LA.
2. The Gremillion Book on Avoyelles Parish Families.
3. Research by the Mormon Church.
4. Remembrances of Percy Lemoine, son of Thelis Lemoine and grandson of Fulgence Lemoine and Celeste Bordelon.
5. Remembrances of Buford Bordelon, grandson of Irene Lemoine and great grandson of Fulgence Lemoine and Celeste Bordelon.
6. Remembrances of Ellis Thomas LaBorde (now deceased) son of Edna Lemoine and grandson of Fulgence Lemoine and Celeste Bordelon.
7. Remembrances of Judy LaBorde, daughter of Ellis Thomas LaBorde, granddaughter of Edna Lemoine and great granddaughter of Fulgence Lemoine and Celeste Bordelon.
The first Lemoine important to Avoyelles Parish history is Guillaume Lemoine, born in the French port city of LeHavre in the Parish of Notre Dame, in the year 1699. LeHavre is north of Paris and in the Province of Normandie. Many of the people who settled in New France (Canadian Province of Quebec) and Louisiana came from towns in the French Provinces of Normandie, Brittany, and Poitou. Guillaume was a sailor and an employee of the Company of the Indies when he married at New Orleans on April 4, 1725, to Marie Sanmerine. She was a native of Palatinate, Germany, and the daughter of Edmael Sanmerine and Annemarie Edelmier. Guillaume was a resident of Pointe Coupee Post from 1740, to his death August 8, 1771.
Guillaume Lemoine and Marie Sanmarine had eight children. On November 15, 1741, Marie Sanmarine died at Pointe Coupee. Guillaume married twice after this but had no more children. His second wife was Marie Gaynard, native of St. Erbilon in the French Province of Brittany. They married on August 21, 1742. Guillaume's third wife was Marie Magdeleine Cordier, a widow.
According to Gremillion, "the Lemoine family is important to Avoyelles genealogy, not only because Lemoines populated early Avoyelles Parish in large numbers, but also because the descendants of the women are also prominent in Avoyelles history."
The son of Guillaume Lemoine and Marie Sanmarine who was responsible for the Lemoine name in Avoyelles Parish was Jean Baptiste Lemoine. He married twice and had at least 15 children, 12 of whom were males. Jean Baptiste was baptized at Point Coupee on September 24, 1741 (note that his Mother died when he was just seven weeks old). He married at Pointe Coupee on May 20, 1760, to Catherine Simon, daughter of Andre Simon, a native of Germany, and Marianne Vallo, from New Orleans. Marianne was born on the Isle of Bath, Brittany, France. At the time of her marriage to Andre Simon she was an orphan at the Ursulines Convent in New Orleans. (Note: As a child I was a student at the Ursulines Convent on Chartres Street, during the time we lived at 716 Governor Nicholls Street, New Orleans. At one time, there were 14 first cousins in my family who attended school there.)
Pierre Lemoine was the third child of Jean Baptiste Lemoine and Catherine Simon (their first two children, Guillaume and Jean Baptiste died young). Pierre was born April 2, 1776, at Pointe Coupee Post. He married on January 25, 1790, to Lucie Bordelon, who was born at Pointe Coupee on October 24, 1773. She was the daughter of Antoine Bordelon and Marie DeCuir. Our ancestor, Zenon Lemoine, was born into this family on February 17, 1802. Zenon Lemoine married on June 27, 1820, to Josephine Rabalais, daughter of Joseph Rabalais and Adelaide Mayeux. At the time of his marriage, Zenon's father was dead and Lucie Bordelon was a widow. Witnesses were Martin Rabalais and Pierre Bordelon. At least 14 children were born to Zenon Lemoine and Josephine Rabalais and one of these was Fulgence Z. Lemoine born March 13, 1843. He was baptized March 25, 1843 and his godparents were Fulgence Coco and Emelie Lemoine. He married two times; first to Josephine Bordelon and then to Celeste Bordelon.
I was able to obtain through the Mormon Church a copy of the marriage certificate of Fulgence Z. Lemoine to Josephine Bordelon, dated February 10, 1866. It was written in French but I can discern that she was the minor daughter of Valery Bordelon, II and Francoise Guillot. Witnesses to this marriage were Edgar Lemoine, Omer Armand, and Alcide Marcotte. Fulgence and Josephine had two children, Marcelus Lemoine who married Caroline Chatelain and Ida Lemoine who married Gustave Plauche. This note comes from Percy Lemoine, now 88, and a long time resident of Baton Rouge.
Percy Lemoine attended the funeral of Fulgence Lemoine and later of his grandmother, Celeste Bordelon. Percy also reported that Fulgence Lemoine was killed from being thrown from his mule and breaking his neck or being dragged to death. Grandmother Celeste Bordelon died later at about the age of 90. Both are buried in St. Paul's Catholic Church Cemetery in Mansura, Louisiana.
Fulgence Z. Lemoine was 18 years of age when the Civil War started; or, as many say, the War of Northern Aggression. My father Ellis told me his grandfather was a veteran of the war. Percy says that when the war ended, Fulgence "walked back home -- when he arrived at Mansura, no one recognized him -- his shoes were all worn out and his clothes were in rags. He brought a rifle back which was kept in the family for a long time."
I also have a photocopy of the marriage certificate of Fulgence Z. Lemoine to Celeste Bordelon on August 28, 1875. It is in English and follows a different format than the one for the first marriage. Witnesses were Abel C. Rabalais, Lucien Bordelon, and Cleophus Bordelon. The parents of Celeste Bordelon were not listed. We have been unable to determine family connections for Celeste; but, available Bordelon family resources do not indicate any relationship with Josephine. Percy says Celeste Bordelon "was operated on her eyes about age 90 and she recovered her eyesight!" Bernadine LaBorde recalls that Celeste Bordelon was affectionately called Grande' by her family.
It has been said that Fulgence and Celeste adopted three children from the orphan trains. These trains occupy a unique spot in American history and were the subject of a Public Broadcasting System documentary as part of the series, "The American Experience." I recently bought the videotape of that documentary and one of the train depots shown is "Mansura." I think Irene was one of the orphans. I do not know the names of the others.
The Lemoine Family farmed a small plantation known as "Boutte de Bayou," which Percy reports were "mostly in woods and a bayou plus some fertile land to grow cotton and corn." When I was young, we went there to help pick cotton. I have a photocopy (poor quality) of a photograph taken about 1900 of the Family of Fulgence Z. Lemoine and Celeste Bordelon.
FAMILY OF FULGENCE Z. LEMOINE AND CELESTE BORDELON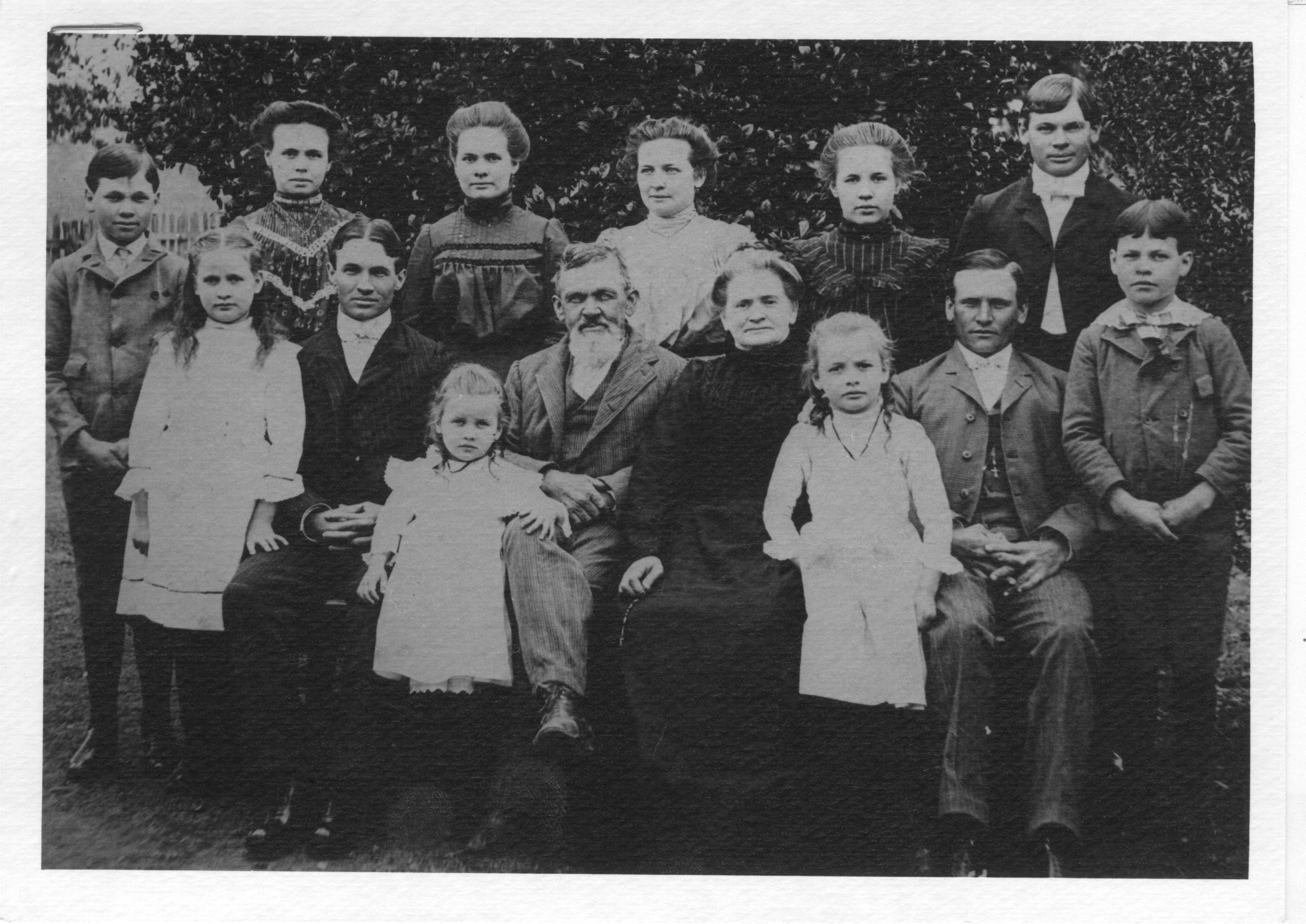 Those shown in the photograph are listed with spouses as follows:
Front Row from Left to Right
Mamie, who married Sidney Lemoine; Thelis, who married Bertha Chatelain; Ethel, who married Claude Hardin; Mr. Fulgence Z. Lemoine; Celeste Bordelon, second wife of Fulgence Z. Lemoine; Ina, who married Milton Rachel; Brice, who married Mae Plauche; and Henry, who married Procedes Novo.
Back Row from Left to Right
Charles, who married Viola Moreau; Edna (my grandmother), who married Arnaud LaBorde; Ella, who married Martin LaBorde; Irma, who married Jules Fontanille; Gertie, who did not marry; and Arthur, who married Aline Plauche.
Absent from the photograph were Irene Lemoine, who married Nestor Bordelon, Marcelus Lemoine who married Caroline Chatelain, and Ida Lemoine who married Gustave Plauche.
By this accounting, the family would total fifteen children of which two were born to Fulgence and Josephine, ten were born to Fulgence and Celeste, and three were adopted. (Note that three of the Lemoine children married a Plauche; two married a Chatelain, and two married a LaBorde. Gertie did not marry and Mamie didn't even change her last name as she married a Lemoine! All the others married into different families as noted.)
My grandmother Edna Lemoine married Arnaud Paul LaBorde on February 23, 1909. I have a photocopy of this marriage certificate, also. Arnaud died in April, 1946, four months before my birth so I only known him from the stories of others. My Father, Ellis Thomas LaBorde, son of Arnaud Paul LaBorde and Edna Lemoine, told me that Arnaud was a bootlegger during Prohibition which was also the time he owned "LaBorde Brick Factory." Bricks made by Arnaud LaBorde were used to make the pillars and chimney of a home he built on Williams Lane in Mansura, Louisiana. This land was part of the original property of Fulgence Lemoine. Some of these bricks were observed on this site as late as 1998.
My Father, Ellis Thomas LaBorde, who was born in 1914 told me that when he was a child the household would be awakened in the middle of the night because of raids by Treasury officers who were looking for the illegal booze. Arnaud was clever enough to bury the booze in the middle of the many ponds that were part of the brick factory. Daddy also told me his Father would truck vegetables to New Orleans and how difficult and primitive the roads were. I can't help but believe that many bottles of booze were transported along with the vegetables. Daddy said after Prohibition Arnaud opened a tavern in the French Quarter of New Orleans. We walked around the Quarter but Daddy could never find the location of the tavern. However, I do not doubt the existence of a tavern operated by Arnaud LaBorde.
Possibly the most accurate observation about Arnaud LaBorde comes from my Mother, Eloise Mary LaBorde, daughter of Clarify Marcelin LaBorde and Nathalie Marcotte, who said that every time she saw him "he was tipsy." There is ample evidence to suggest that Arnaud was an alcoholic, with all that portends. I believe Grandmother Edna had a very hard life because of her husband. My Mother told me that for many, many years Edna and Arnaud lived separate and
apart. With nine children, I'm sure it fell to Edna to support them as best she could.
In addition to a shortage of money, there were other more serious difficulties. When her oldest son, Paul LaBorde, was seven years old, he insisted on staying home one Sunday while she took the other children to a picnic at Boutte de Bayou. That day Paul's horse kicked him in the head, causing his death seven day later. Edna grieved for Paul the rest of her life.
The Great Depression was a very difficult time for the family. My Father was devoted to his Mother and siblings so much so that he would "ride the trains" -- hop on freight trains with hoboes. My Father was a prize fighter and his plan to help the family was to get off at the big towns, win money as a prize fighter, and send this money back home. His plan worked for a while until he found himself in Chicago with pneumonia. Word got back to Edna and she somehow found her way to Chicago, nursed her son until he could make the trip home.
As a child, I loved visiting Grandma Edna in the country. That house by the railroad tracks would often be filled with grandchildren. She would put mattresses on the floor near the screened door for us to sleep, there were so many of us. I remember vividly the train coming, waking us up in the middle of the night with that lonesome train whistle. I would stand by the screen watching the train go by and take it all in...the air, the porch, the cousins, the sleep...inhale everything and embrace all the elements with the sure feeling that Grandma loved us all.
My Mother respected Edna Lemoine, frequently marveling at how adept she was at doing so many things. One time in particular I remember that Grandma came for a visit to our house on Royal Street, a shotgun double with a small yard. In no time flat, Grandma had a glorious array of zinnias coming out of small spot of ground. She made the most delicious pineapple cakes from scratch and watermelon preserves. She did many carpentry things like making kitchen cabinets.
Grandma Edna Lemoine and Arnaud LaBorde had ten children who were Paul LaBorde, Milburn Joseph LaBorde, Maurice LaBorde, Ellis Thomas LaBorde, Celeste LaBorde, Martinese LaBorde, Esther LaBorde, Garvice Gregory LaBorde, Davey Paul LaBorde, and Lucia LaBorde. Order of placement is uncertain as some birth dates are missing.
Paul LaBorde died at age seven, as explained before. Martinese LaBorde had a severe speech impediment and some other health problems.
Maurice LaBorde owned a thoroughbred race horse and was a successful jockey who won a major race, according to newspaper accounts at the time. Someone robbed him, stole his horse, and beat him so severely that his mental faculties were destroyed. A telegraph notified Edna that Maurice was being sent home by train. He arrived alone and mentally confused at the train depot in Mansura with a note pinned to his shirt and addressed to his mother. This required his being cared for in a nursing home for the rest of his life.
Celeste LaBorde was especially generous to her mother. She married Richard Stokes, a chemist, and they lived most of their married life in Long Island with their two daughters, Anne and Patty. Celeste paid her Mother's airfare to visit her in New York and frequently bought her appliances, food, clothing, whatever her Mother might need. One time Grandma returned from a New York visit wearing a mink stole!
Note: This article provided by Judy LaBorde has been edited for consistency with facts known about this family. The account represents her opinion of persons and events about which she has reported; hence, she is responsible for its content.


Fulgence Z. Lemoine
LaBorde Family Feature