ROBERT JAMES EADDY, Jr.
by
Vanik S. Eaddy, Ph. D.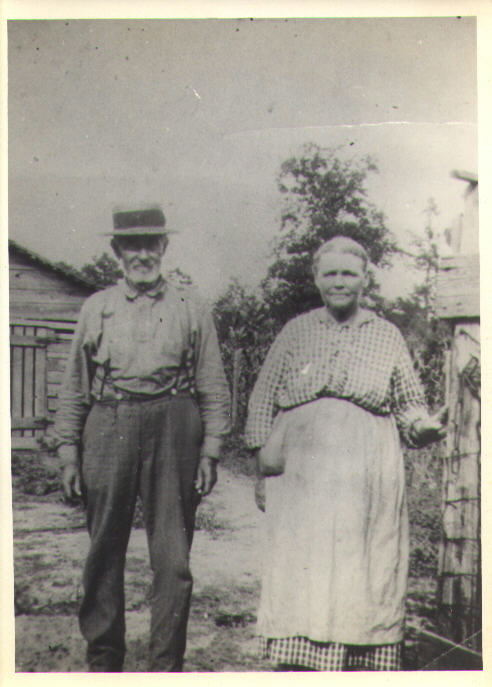 Robert James Eaddy, Jr. and Virginia Louella (Bartell) Eaddy
Robert James Eaddy, Jr. was listed in the 1880 Census as a step son in the household of Daniel Richardson who married his mother, Mary Camellia Owens, after the death of his father, Robert James Eaddy, Sr. in the Civil War. He was married to Virginia Louella Bartell on July 2, 1885, a fourth generation descendant of Jacob Bartell. They were the parents of nine children, two of which died before reaching adulthood and one who died in 1919 while a U. S. Army soldier in the occupation of France after World War I.
The family moved from Prospect, now in Florence County, South Carolina to Indiantown Community about 1900-1914. They acquired a tract of land next to the Bartell Family property and remained farmers and Methodists until the end. Robert James Eaddy, Jr. died in an automobile accident on December 30, 1934. He was my grandfather whom I never met because of this tragedy.
They built a spacious country home which had a porch along the northern or front side of the house, a smaller porch on the southern or back side, and large live oak trees shading the yard. The house had a "dogtrot" hallway from front to back which was about ten or twelve feet wide. When the doors were opened, a fresh breeze passed down this hallway and cooled all the rooms on either side. This was "the place" for family reunions and other gatherings. Adults would sit on the porches or under the trees and exchange conversation about news events or farming interests. Children would play games or baseball in the yard, fields, and pastures. Eavesdropping on the adult conversations was a sublime form of entertainment for the younger set. While attending one of these events as a child, I vividly recall the shouts of joy which rang out when they learned by radio that Germany had surrendered to the Allies in World War II. My grandmother spat out her snuff and declared loudly, "We have just whipped them Germans and now we gonna whip them Japs too!" They had a vested interest in the outcome of that war, even as the rest of the world does today. The Eaddy family has always contributed its share of soldiers, sailors, and airmen in every conflict entered by the United States of America.


Eaddy Family Features
James Eaddy Family Tree