SOLDIER'S GRAVE MARKED AFTER 142 YEARS
Shonda Milton, Owner & Editor*
Harvester Monthly Newspaper
January 7, 2005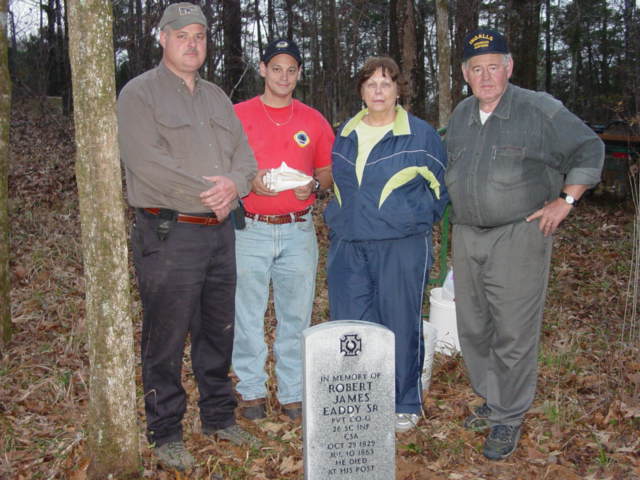 On Sunday, January 2, 2005 members of the Flora Historical Society participated in what Mr. Presley Posey called, "a once in a life time event." Members hiked up the wooded hillside of Flora's Mt. Olympus (a.k.a. Mt. Leopard) to a small abandoned cemetery, now called the Hammack Family Cemetery. It is located on property now owned by Mrs. Natalie Santangelo who granted permission for the setting of a grave marker on the site. There, they were joined by South Carolina native, Vanik S. Eaddy, Ph.D. and his family, to mark the previously unknown gravesite of Eaddy's great grandfather, Robert James Eaddy, Sr.

Dr. Eaddy described to historical society members the 14-year sequence of events, which finally led him to the discovery that his great grandfather had been buried in the Andrews Family Cemetery in the Vernon Community of Madison County, Mississippi and why it had gone unmarked for 142 years.

According to Eaddy family history, Robert James Eaddy, Sr., was a farmer, schoolteacher, and Commissioner of the Williamsburg County Roads and Waterways in South Carolina. Too old for the draft in the Civil War, he volunteered and served as a Private in Company G of the 26th Infantry Regiment from South Carolina, CSA. He became ill during the Siege of Vicksburg. His unit surrendered on July 4, 1863 and they left Vicksburg on foot. While marching through Madison County, they camped near Mt. Olympus School in Vernon Community. The military records of Private Eaddy indicate that he had become ill and was, "… left beyond Jackson". He was rescued by Rev. C. G. Andrews from that schoolhouse where over 100 sick soldiers had taken refuge when their unit moved on and left them behind. He was then taken to the home of Mrs. Martha D. (Lindsay) Andrews, the mother of Rev. Andrews where he was nursed until he died on July 10, 1863. Rev. Andrews notified Mrs. Mary Camellia (Owens) Eaddy by letter that her husband had died and was buried in the Andrews family cemetery; however, no details of the exact location were given. Following the Civil War, the area fell into poverty, the original residents moved away to find a better life, and the Andrews family home was destroyed. So for more than 142 years the exact location of the cemetery has been in question.

"Dewey P. Eaddy, my father, was an avid amateur genealogist and historian with a memory for narratives and details which escaped me as being important in my youth," said Dr. Eaddy. "He related this story to me many times and caused me to pledge that if I ever visited Mississippi that I would locate the burial place of my great grandfather."

As providence would have it, Dr. Eaddy not only visited Mississippi, he moved to Starkville in 1989 to take at job at Mississippi State University—this began the journey. After moving to Mississippi, he began to inquire about the location of the Andrews family cemetery. In 1991, he was introduced to Mr. Charles E. Bowering of Flora, a local historian who had made records and assisted in renovation of some of the old abandoned cemeteries in Madison County.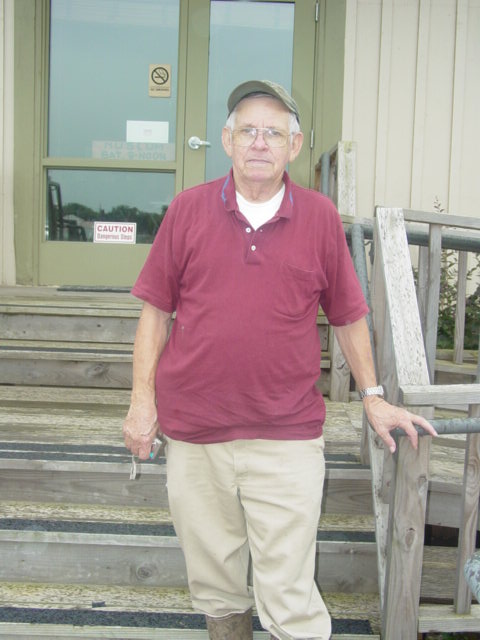 "Charles welcomed my wife and me into his home, shared his records with us, and took us on a tour of the area to visit local cemeteries," said Dr. Eaddy. He was able to identify exactly who Rev. C. G. Andrews was and to provide some insight into the life of Vernon Community during the period. We learned that Reverend Charles Green Andrews, D.D. was a famous evangelist and notable Methodist church official of the period. He was instrumental in the establishment of Millsaps College in Jackson, Mississippi and once served on the College Board of Directors.

At first, it was believed that the correct cemetery was the one known locally as the Kearney/Thomas Cemetery. That cemetery was the burial place for many members of the Vernon Methodist Church and some relatives of Rev. Andrews who was the pastor of that church during 1863-64. Robert James Eaddy, Sr. was known to be an active member of the Prospect Methodist Church in South Carolina. These considerations strongly suggested this location was the correct place. Plans were made to place a grave marker in the Kearney/Thomas Cemetery in memory of our fallen soldier; but those plans would never come to pass.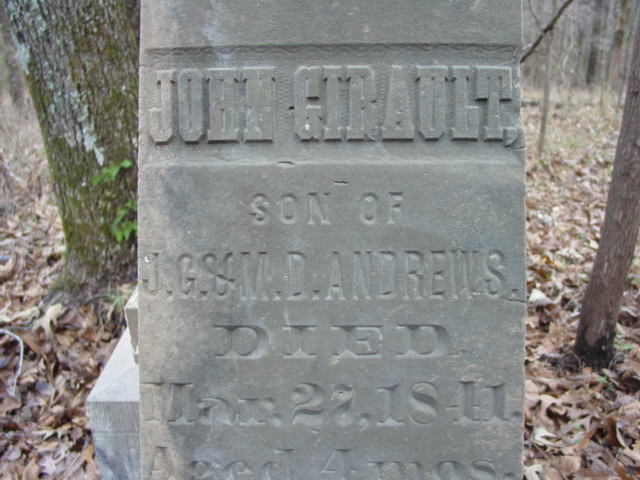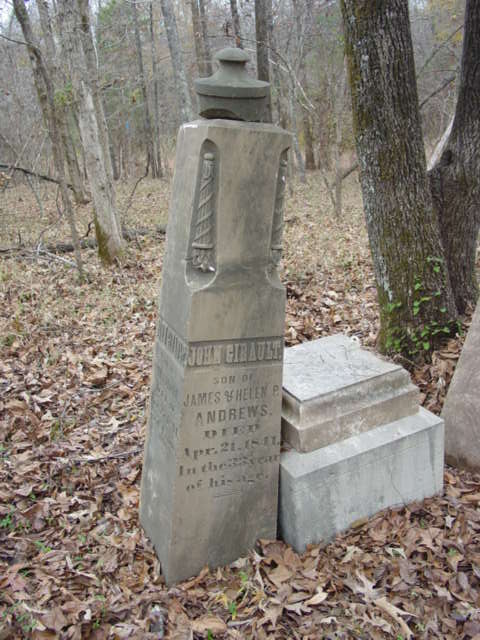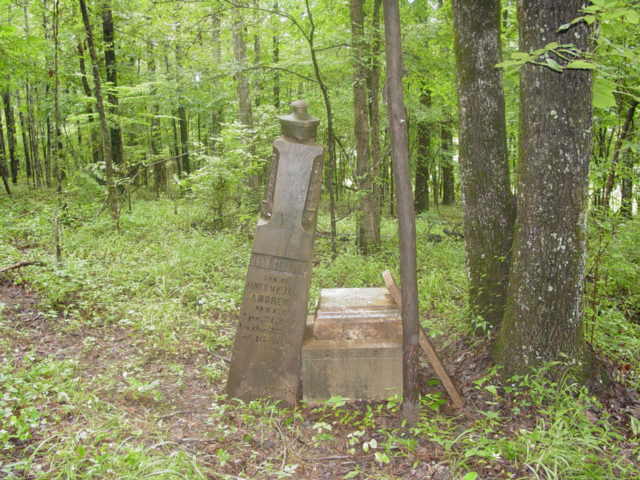 Grave Markers for John Girault Andrews, Sr. and John Girault Andrews, Jr.

Following the publication by Mr. Presley Posey of The Flora Book: A History of the Town of Flora and Southwest Madison County, Mississippi, new historical information became available which caused adjustment to original theory of the burial location. Charles Bowering announced in 2004 that he had a new site for exploration. This site is now called the Hammack Family Cemetery in which a large spire marker indicates the burial places of Rev. John Girault Andrews, Sr. who died in 1841 at the age of 33 years and John Girault Andrews, Jr. who also died in 1841 at the age of four months. This burial site was located on the Mt. Ida Plantation which was once owned by Mrs. Martha D. (Lindsay) Andrews, widow of Rev. John Girault Andrews, Sr., who were the parents of Rev. Charles Green Andrews.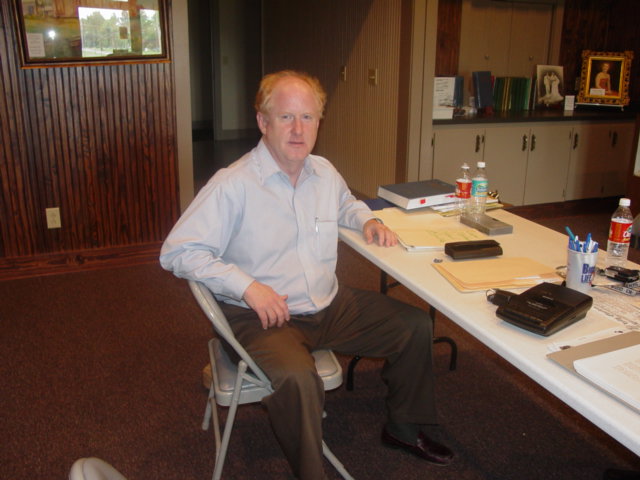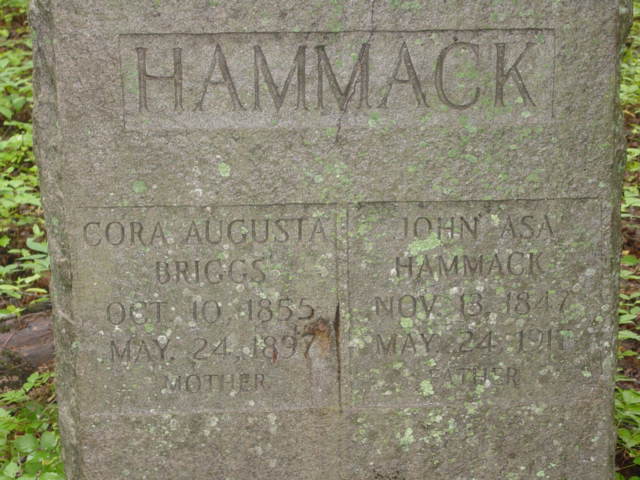 Presley Posey Hammack Family Marker

We also learned that Mt. Olympus was the name of a ridge lying generally east to west and was located on the Mt. Ida Plantation. On this ridge was a school known as the Mt. Olympus School and that in the schoolyard was a spring of water. All of this was located on the most direct route from Vicksburg to Canton, Mississippi. This would be a most likely place for a confederate army to camp on the route to Canton, Mississippi where train transportation could be arranged to return to South Carolina. This road is today known as the Mt. Leopard Road. Local history reveals that the western end of Mt. Olympus was excavated by the U. S. Army about 1941 to make roadbed for the ammunition plant built in that area. Before removal, this was the highest point in Madison County. The remnant of Mr. Olympus is known today as Mt. Leopard.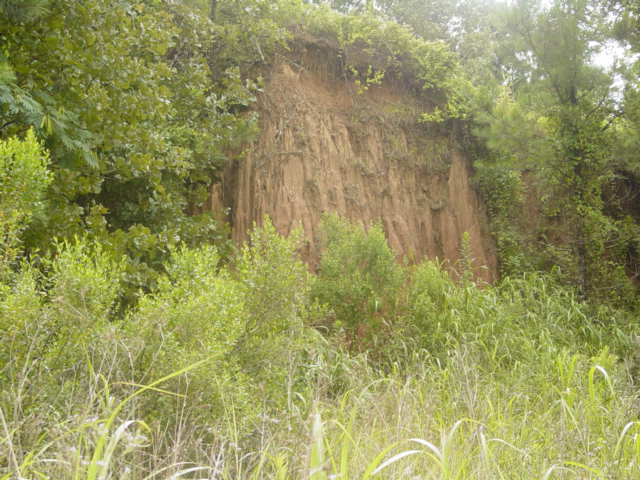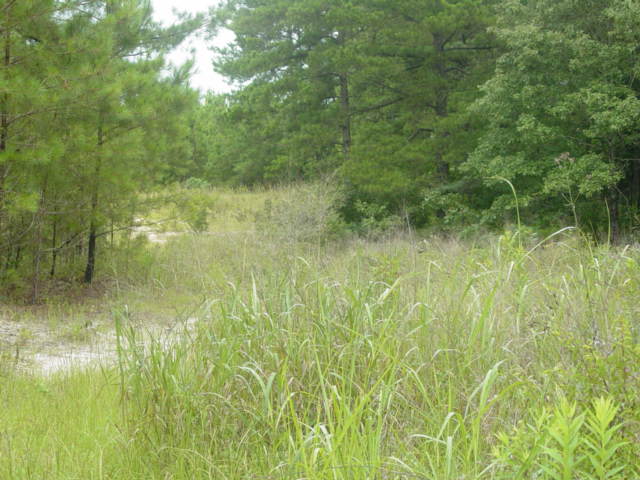 Mt. Olympus Bluff Cut and Quarry

In a joyful, emotional, and informal ceremony, Dr. Eaddy, along with his wife, son, nephew, and members of the Flora Historical Society, were able to bring closure to a 14-year journey. The exact spot in which the body was interred is unknown; but, we are confident that the marker stands within a few feet of his remains. The resting place of Robert James Eaddy, Sr. is now marked with a beautiful granite headstone provided by the United Sates Veteran's Administration. The placement of the headstone occurred over 142 years after the death of this confederate soldier; thus, fulfilling Dr. Eaddy's promise made to his father over 50 years ago.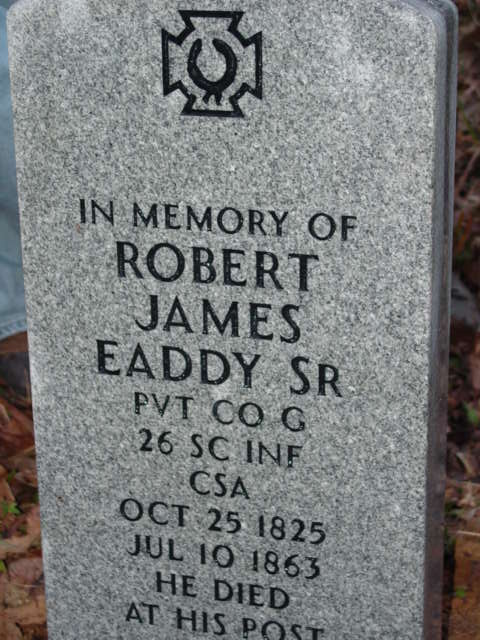 HE DIED AT HIS POST

Robert James Eaddy, Sr. dictated a letter to Rev. Andrews who sent the letter to Mrs. Eaddy in which he confessed that his trust was still in the Lord and declared that whenever he should die, "... it would be at his post...," rather than desert. A note on the headstone marker testifies, "HE DIED AT HIS POST."





Participating with Dr. Eaddy were his wife Bernadine (LaBorde) Eaddy of Starkville, Mississippi; son Trevan Brian Eaddy, Sr. who lives near Maben, Mississippi; and nephew Phillip Walter Eaddy, Sr. of Indiantown, South Carolina. Dr. Eaddy is a seventh generation descendant of James (Eddy) Eaddy, I. of South Carolina. James Eaddy, I. was a pioneer farmer who served as a patriot soldier in the Revolutionary War. He and his two sons fought with General Francis Marion (The Swamp Fox) in Marion's Brigade of the South Carolina Militia.

Members of the Flora Historical Society participating in placing the marker on the site were: Presley Posey; Charles Bowering; Gene Watkins; Janis Watkins; George Allard, M.D.; Ed Blake; and Mary Brooks. Shonda Milton, Owner and Editor of The Harvester Monthly represented the newspaper.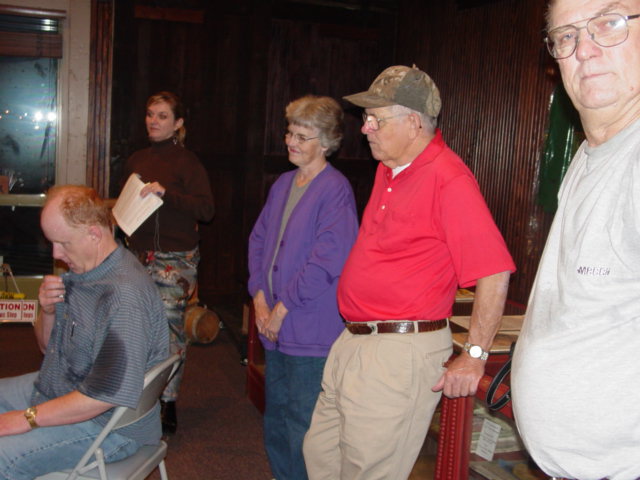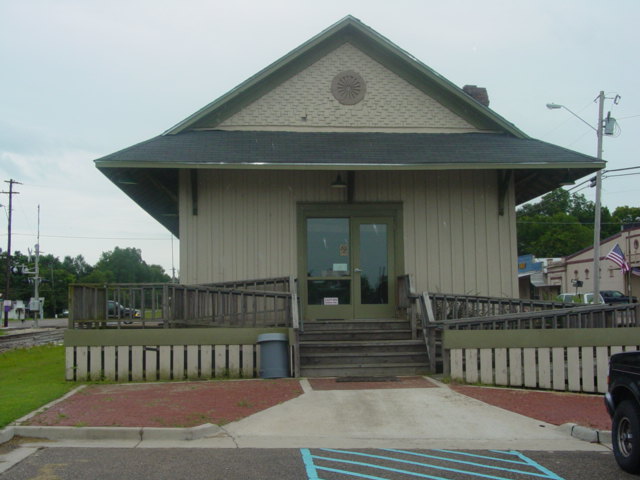 Members of the Flora Historical Society and Flora Depot Museum

Dr. Eaddy added in closing, "When a promise is made, it should always be kept, if possible. One's word should be as good as a legal agreement. When an honest promise is made to someone, God will make a way for its fulfillment as done in this circumstance."

* The narrative text for this article was written by Shonda Milton. Editing for content and pictures for this version of the article were done by Vanik S. Eaddy, Ph.D.