MEMORIES OF COLONEL WALKER CROSBY AND DAISY CELESTE HANNA
By Their Son
Griffin Grover Crosby, Sr.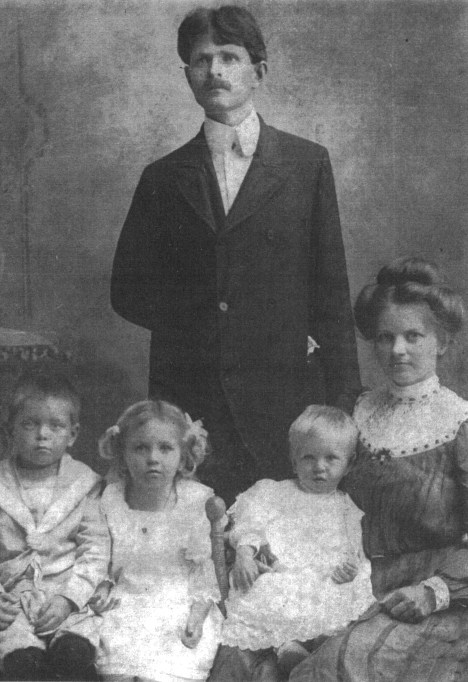 Colonel Walker Crosby and Daisy Celeste Hanna
With Three of Their Children, About 1908
Thomas Bertle Crosby (left)
Jewel Louise Crosby (center)
Colonel Lee Crosby (right)
We do not know when or why, but Colonel Walker Crosby moved from Texas back to South Carolina. He and Daisy Celeste Hanna were married around December, 1901. All their children were born in Lake City, except for Joseph Leston Crosby, Miriam Lora Crosby, Griffin Grover Crosby, Sr., and Mildred Eleene (Angelene) Crosby who were born in Columbia, South Carolina.
While living in Columbia, the family lived in a two-story house. Colonel Walker Crosby built another house across the street into which the family moved. Thomas Bertle Crosby moved into the old one. During this time, Daisy Celeste Hanna was a seamstress. She sewed a lot for professors at the University of South Carolina. During the time in Lake City and Columbia, Colonel Walker Crosby was a builder and a farmer. He farmed at the farm of Uncle Mennis.
Jewell Louise Crosby was born February 29, 1904 at Lake City, South Carolina. She died September 16, 1919 of pneumonia. She had gotten the flu, and unknown to her parents, the doctors discovered that she had some type of leakage in her heart. This condition made her weak and she was unable to fight the flu. The flu developed into pneumonia and she died.
In the late 1960s or early 1970s Griffin went to visit the grave of his sister, Jewell, and found it to be outside of the fence at Dents Cemetery. With the help of Fletcher Hammonds, a judge was contacted for approval and funeral homes in Columbia and Lake Wales coordinated to move her remains by train from Columbia to Lake Wales for burial in the family plot. Today her remains rest in peace beside her parents in Lake Wales, Polk County, Florida.
The family moved to Lake Wales, Florida in 1925. They traveled in a Model T Ford car. It was necessary to cross rivers by ferry on their trip south. Before the family moved to Florida, Colonel Walker Crosby became involved with some "land sharks" and went to Florida with them. They took everything he had except for a lot at 615 North Walker Street, Lake Wales, Florida. There was no building on the lot. When the family came to Lake Wales, they lived in a house on Center Street. They then moved into a 20' x 20' tent on the property. Colonel Walker Crosby built this tent with a wooden foundation and board walls halfway to the tent roof covering. In 1926, a hurricane destroyed the tent covering. It was rebuilt with wood framing and made into a small grocery store, "Crosby's Grocery Store". The family lived in the back of the store. They had two pitcher pumps to get water.
When they moved to Florida, Daisy was employed to section grapefruit at a canning plant and was also a seamstress. Ola Ruth Crosby and Thomas Bertle Crosby stayed in South Carolina until after the rest of the family moved to Florida. Ola moved there about 1927. Thomas Bertle Crosby was married at the time of the move and was a body shop man. He moved to Florida about 1935.
In 1929, the family moved to Weslaco, Texas and lived on a farm at Road #7 where Colonel Walker Crosby farmed cotton, cabbage, and carrots. On the way to Texas, he purchased two mules and named them Slim and Jim which were used on the farm. While in Texas, Griffin Grover Crosby, Sr. purchased a jenny for 25 cents and later sold it for 15 cents. In 1931, the family moved back to Lake Wales, Florida.
Colonel Lee Crosby was a painter. He was also a welder in the shipyards during the war. He painted in and around Lake Wales for years. He was always a "hot head and liked his beer".
Joseph Leston Crosby worked in food machinery. He built tanks during the war. After the war, he went into the appliance repair business and worked in Lakeland, Florida in appliance repair until his retirement.
Carley Cleveland Crosby was an excellent welder. He also operated a welding school for the government. Carley started a water well drilling business around 1944 and around 1945, Griffin moved back from the St. Petersburg, Florida area and went into the well drilling business with Carley. Years later, Griffin bought the well drilling business "Crosby Well Drilling" from Carley and ran it until retirement. At that time, Griffin Grover Crosby, Jr. took over the business, and continued its operation. John Patrick Crosby, son of Griffin Grover Crosby, Jr., also worked in the business.
Carley was quiet and easy going until he married his first wife, and then he developed an opposite personality. In his later years, he "liked the women". Carley built an airplane from scratch, including the motor, and flew it successfully. After the original move, Carley always lived in Lake Wales, Florida.
Griffin Grover Crosby, Sr. went into the Merchant Marines in 1941.
Miriam Lora Crosby moved to Tampa around 1937 to go to college. There she met Dan H. Tarvin, her first husband, and they traveled together until settling in California. After moving to California and separating from Dan, she married Edward R. Murphy. Miriam worked for Hughes Aircraft and became a very important part of that business making aircraft components. Years later, she retired and moved to Washington State to be near her daughters.
Ola Ruth Crosby worked at a dime store in downtown Lake Wales. She met Culver E. Barfield, who was a foreman at Hills Brothers Canning Plant in Lake Wales. They moved to Griffin, Georgia to farm after they were married. Years later, they moved back to Dade County, Florida.
Mildred Eleene Crosby legally changed her middle name to Angelene. She married William Kersey who ran a Sinclair Service Station. He entered the service and they moved to California where he was stationed. They moved back to Lake Wales where he built up his own plant nursery business eventually employing their two sons and a daughter.
Thomas Bertle Crosby ran his own appliance store in Lake Wales until retirement. At that time, his son, Ronny Bert Crosby, took over the business and ran it for a few years until he closed it down. Ronny was murdered several years ago and the killer was convicted and sent to prison.
As of January, 1999, all of the children were deceased, except for Griffin Grover Crosby, Sr. and Miriam Lora Crosby. All the deceased are buried in the Lake Wales Cemetery, except for Ola Ruth Crosby, who is buried in Dade City, Florida, and Joseph Leston Crosby who is buried in Lakeland, Florida.


Eaddy Family Features
James Eaddy Family Tree